Do you want to create and integrate an ad code but don't know where to start? We are ready to help you.
Sign Up as a Publisher
Well, this step is easy as a pie, isn't it? All you have to do is to click Sign up on the landing page and fill in the short-form.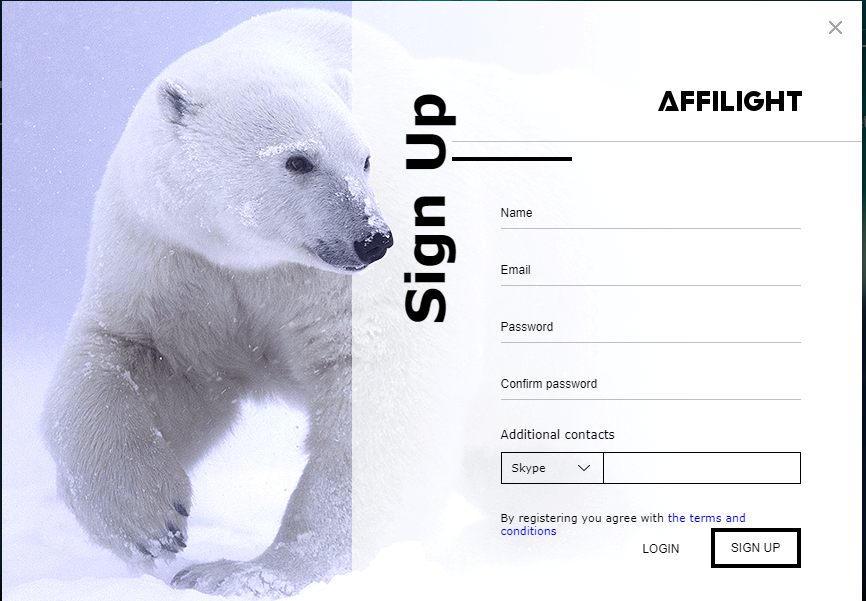 Pay special attention to the Name and Email because you won't be able to change them further. As to the rest information, you can make revisions in your account settings at any time.
A quick glance at the platform
The publisher account has 7 basic sections.
Contacts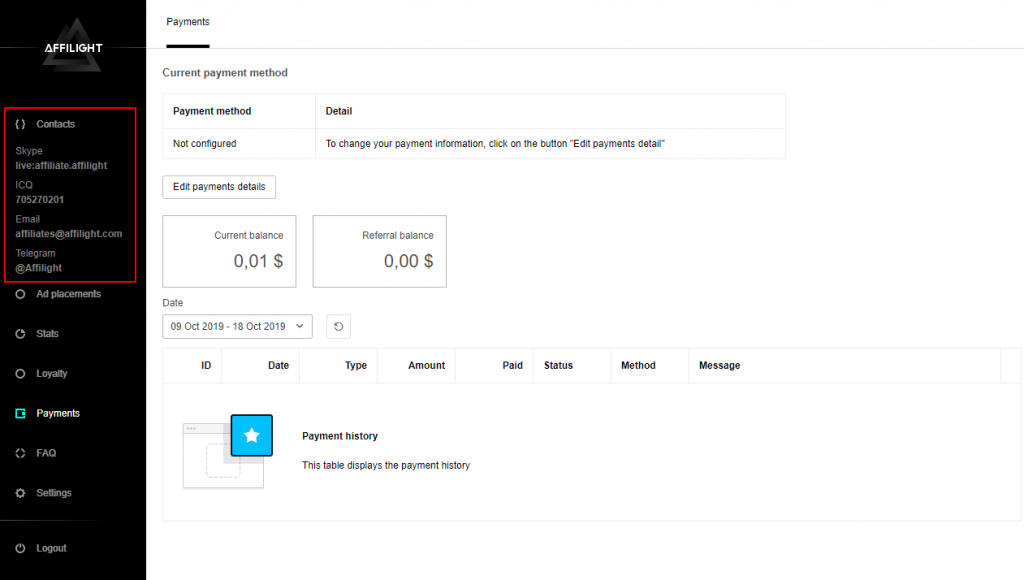 Here you can find all the necessary contacts to get in touch with our managers.
Ad placements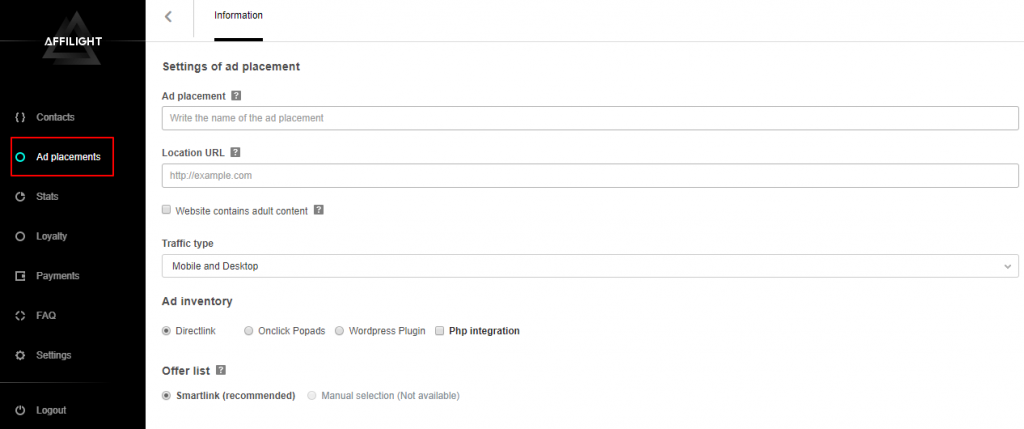 In this section you can create an ad placement. Before this step, please, make sure that you have already chosen a payment method. Our affiliate network can offer you the following ad inventory: Directlink, Onclick Popads, WordPress Plugin, and Direclink with PHP integration. To help you we have prepared a few guides.
Stats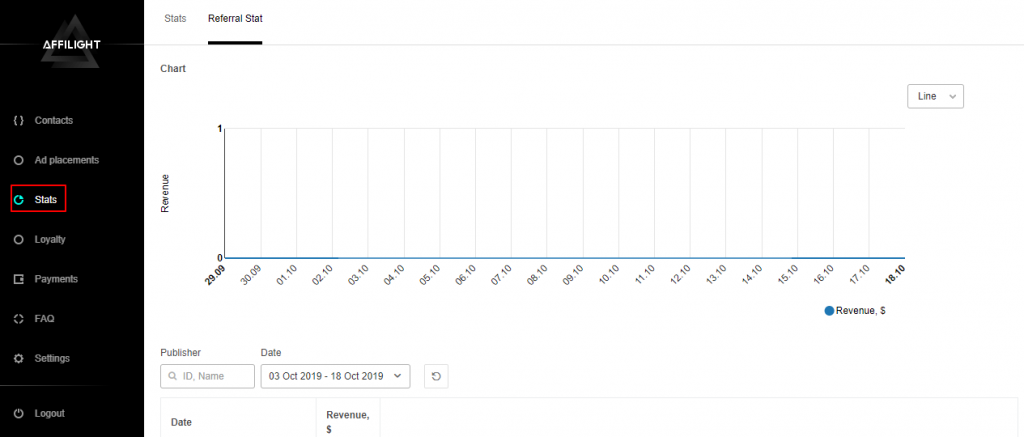 This section is divided into two: Stats and Referral Stats. In Stats you can check your dynamics for period in a line or a bar. Also you can use filters such as Ad inventory, Country, Device, Date, and Group to get a better understanding of results. In Referral Stats you can check your revenue from your referrals. There are two filters only: Publisher and Date.
Loyalty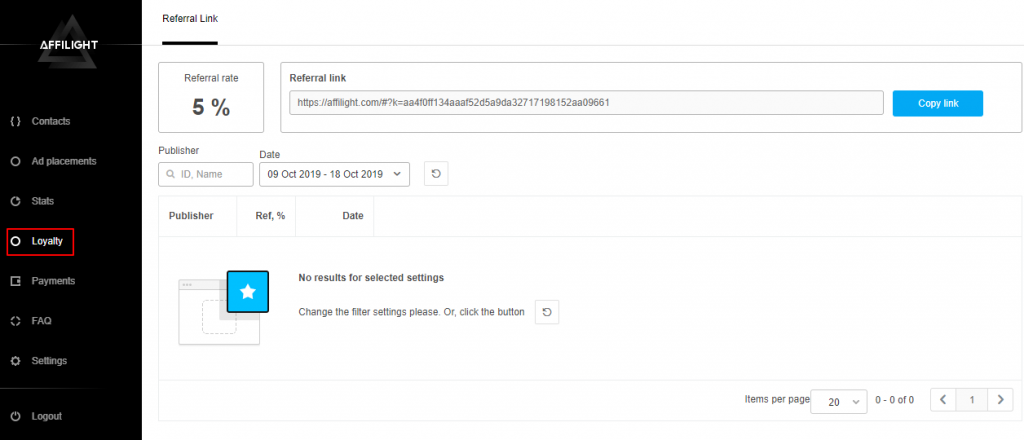 Here you can copy your unique referral link. If someone follow this link and register in Affilight, you will get 5% from his income. The more referrals work with us, the more money your earn. More about this referral program you can read in our article: Affilight's Referral Program.
Payments

In this section you can choose the most suitable payment method. At present, we have 7 payment options: Paypal, Webmoney, Wire, Epayments, Bitcoin, Capitalist, and Payoneer. Please note that each of them has its own payout limit. For example for Wire it is $1000 and for Webmoney — $10. We pay in USD only but, of course, money can be converted into any other currency. Please read our article Payments to get more information.
Settings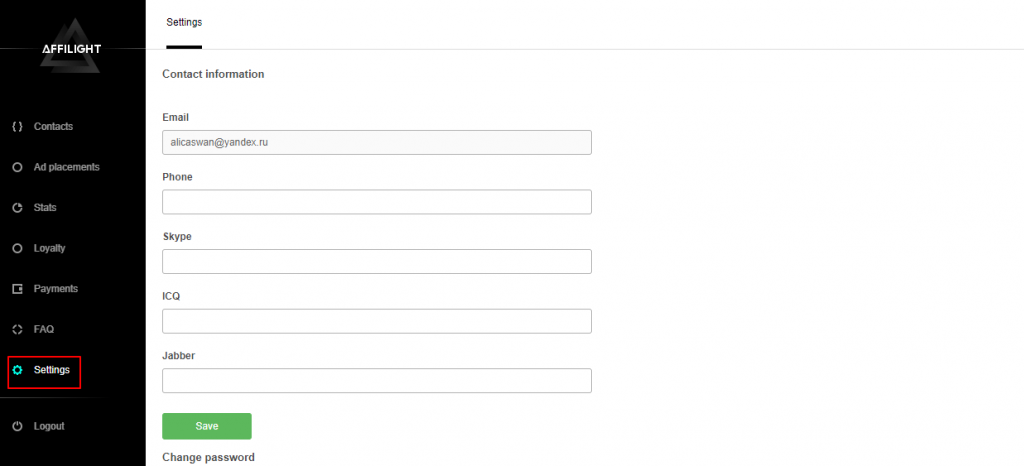 The present section focuses on your information only. Here you can change your password, and contact information.
As we mentioned above, a set of guidelines has been developed to help our publishers:
If there's anything else you want to ask, please contact our support team: affiliates@affilight.com